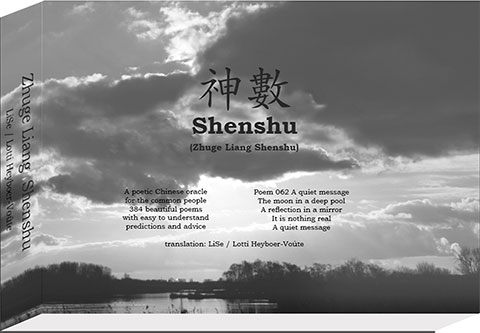 Coming week (around May 30) the Shenshu oracle can be ordered at
Boekenbestellen
Click image for more information
Download a sample of 52 pages (pdf)
This publication is for Europe, next month I hope to have it available through amazon US.
There will be three versions:
A hardcover book of 374 pages, with the 384 poems of the Shenshu and for every poem the translation and an interpretation.
With 150 black-white photos, most of them as a background across the entire page.
Many poems are based on interesting stories from Chinese history or myth. I added them in between the explanations of the poems.
Size: A5 horizontal: 14.8 cm. high and 21 cm.wide (5.6' x8.2')
Six pages of the hardcover Shenshu



Two pages of the paperback Shenshu


Same size (A5 horizontal) but 322 pages.
No photos on the pages of the poems, but with the same illustrations of the background stories as the hardcover version.
Price not certain yet.
Pages of both books


Explanations

Stories of backgrounds
The third version will be an ebook
I will have it ready in 2019, but I cannot give a date yet.
Probably this spring.